There are a few defining moments in a relationship but, before any of those, you have to actually define the relationship — that big conversation that asks where you two are going, what you want, and all that other fun stuff. Even though it's such a significant conversation, it's not always easy to have.
That's why Match and hello products dubbed October 2 the official DTR Day — the perfect opportunity to finally have that "where is this going?" conversation. "It's often difficult to DTR — the initiation of that conversation can feel awkward and induce anxiety," Match dating expert Rachel DeAlto tells Bustle. "Creating a DTR day is really a conversation starter!"
Having the DTR talk is a bit like pulling off a Band-Aid — starting the conversation is the toughest part. And, often, you'll both feel better once it happens. "Broaching the topic is often the hardest part!" DeAlto says. "The rules of dating have changed, but our desire for companionship hasn't. I often work with people that are very frustrated that they don't know where their relationships are headed — men and women. DTR is an important step." But that doesn't mean it's easy. How do you know if it's time to DTR? And how do you go about it? Here's what the experts want you to know.
1
Make Sure You're *Not* Doing It Out Of Frustration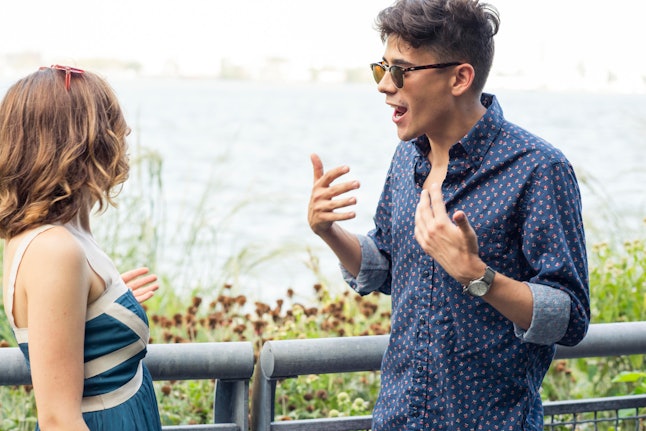 You don't want to necessarily jump into a relationship just because you're not sure what's going on with this person.
"Far too many, the relationship defining talks are initiated because one of the parties is upset about their nebulous relationship status," Demetrius Figueroa, the founder of the dating blog and podcast Tao of Indifference, tells Bustle. "Entering into a relationship is a big step, one you shouldn't make out of anger. Instead, try to start the conversation from a neutral position. Have the conversation that you both want to have, not a conversation one of you wants to have because you're angry." If you just have questions about what's happening between the two of you, you can address those, without having to make the relationship "official".